As the title suggests, transfer was a success!! I now have a top grade little embryo on board that I have affectionately named 'Little Hitch-hiker'.
I thought transfer day would be hugely nerve-racking but instead it was lots of fun. Nerves obviously still played a part and as much as I'm very aware that Em and Adam will be forever grateful for me just trying, I also know how much a success would mean. It's hard not to feel that pressure, even when none is ever put on me, but that's where my 'What will be will be' mantra comes into play.
Transfer was in the afternoon so brunch and shopping beforehand was a must - matching transfer day souvenir dress anyone? After losing the boys to gadget browsing and spending far to much time in Dorothy Perkins trying on clothes we headed off to Hammersmith with our 'Hospital snack' bag of sweeties.
Once there and in the waiting room I (and I think I can speak for Em here too) started to feel a little guilty about the smiles and jokes we were sharing. We were seated with three other couples, all of which were undergoing transfers after us. The pain and nerves in their faces was heartbreaking and it really did put into perspective yet again just how lucky I have been and why I am doing this.
I know Em and Adam have had more than their fair share of heartache and I'm certain they were equally as nervous as the other couples in the room but I'm so glad we are all close enough as a team to make it as fun and exciting as it could possibly be.
Transfer itself was quick and painless and felt extremely similar to having a cervical smear. Afterwards the nurse talked us through a still image on the ultrasound screen and showed us where Little Hitch-hiker had made it's temporary home.
It's certainly a bizarre feeling being PUPO (pregnant until proven otherwise) as, unlike a natural conception I KNOW their is something in there, I just don't know how long it will stay, and it's truly out of my control.
I think we all have a gut instinct at the moment that this was truly meant to be and has worked, and Em and I are currently trying desperately (and somewhat failing) to put things to the back of our minds and be rational, but it really is in the hands of fate now...which is exciting and terrifying all at the same time!
So we are now in the dreaded 2 week wait...with everything crossed.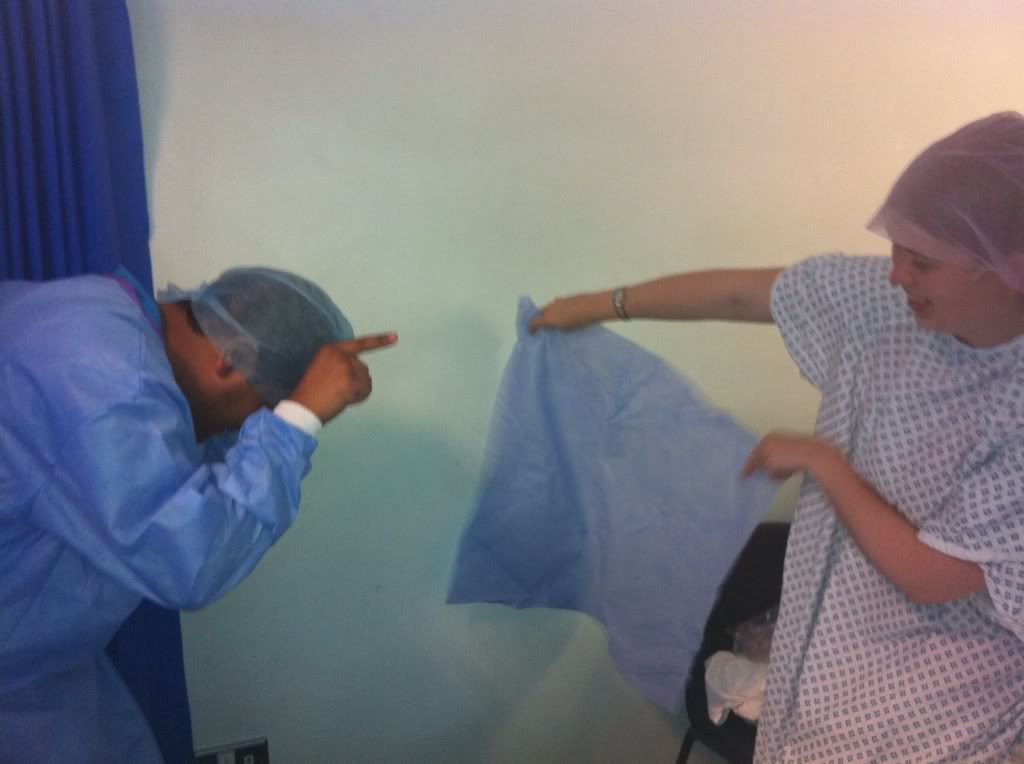 Taking things very seriously
Gorgeous Hospital attire